Prees man's money saves village GP practice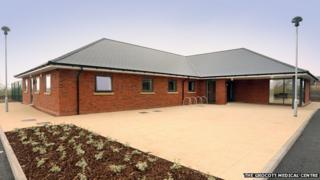 A local GP practice has been saved after a villager put forward money.
Ray Grocott, 81, said he had funded the £1m medical centre in Prees, Shropshire, as a doctor who held his surgery in his home was retiring.
Villagers would otherwise have had to go to Wem or Whitchurch, he said, journeys of about five miles (8km).
The Grocott Medical Centre, including four consulting rooms, nursing space, a waiting room and offices, will be officially opened at 18:00 BST.
Mr Grocott, chairman of Whitchurch-based Grocontinental, said: "I just couldn't stand by and see us lose our doctors' surgery.
"You hear a lot of talk in the news about public/private partnership and I thought this was a good way to put it into practice."
The Grocott Family Charitable Trust would lease the building to the NHS for a nominal rent for the next 15 years and the centre would be run by Wem and Prees Medical Practice, he said.