Old quarry reopens as Eardington Nature Reserve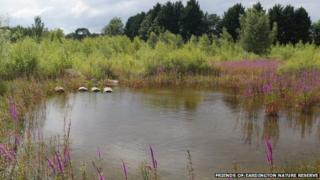 An old quarry has reopened after being transformed into a nature reserve by a group of volunteers.
The site, near Bridgnorth, is holding activities until 16:00 BST to mark its reopening, including guided walks.
Volunteer James Gittens said work included coppicing woodland and creating pools and banks for birds.
"Basically it was just a blank canvas when we started 13 or 14 months ago and it has just blossomed into what it is now," he said.
The site was acquired by Shropshire Council in 2013 and was awarded about £18,500 from the SITA Trust towards the work.
The trust supports community and environmental improvement projects through the Landfill Communities Fund.