Shropshire Council proposes register office closures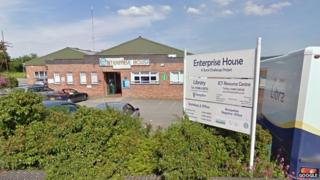 Register offices in Shropshire could close under plans being considered by the local authority.
Shropshire Council said fewer people were using some offices, partly due to more services being offered online.
A six-week public consultation is due to close on 26 June.
There are currently 11 register offices across the county performing marriage and civil ceremonies as well as registering births and deaths.
The council is considering three possible options - making no change, closing three of the most under-used offices in Church Stretton, Bishop's Castle and Wem, or in the most extreme case closing all offices other than a central one in Shrewsbury.
The second option will mean saving about £50,000 or £100,000 if the third option was adopted, the council said.
Karen Calder, Shropshire Council's cabinet member for health, said "low usage" and plans to make bookings available online meant the authority was looking at how it could "rationalise and reshape" services to reduce costs.
The council said the recent move of main maternity services from Shrewsbury to Telford meant fewer births were being registered in the local authority area, which affected both workload and income.
In February, the council released plans for £40m budget savings, with adult social care facing the biggest cuts.