Charlotte Christodoulou family struggle with school death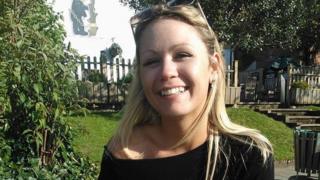 The family of a woman who froze to death have said they are determined to find answers if only for the sake of her four-year-old daughter.
Charlotte Christodoulou, 23, was found at a school in Shrewsbury on 4 January.
An inquest heard she had got stuck two days earlier while trying to take a shortcut across the grounds. Coroner John Ellery recorded a verdict of death by misadventure.
"I just don't understand," her mother Claire Gleeson, 39, said.
"A 23-year-old just doesn't die. I'm convinced if she was found earlier she could have survived.
"Where she first got into the school, the fence was just 3ft high, lower in other areas.
"I went to where she got stuck. I've got 20 years on my daughter and I managed to climb it no problem."
'Wants her mummy'
The inquest earlier this week heard Charlotte and her boyfriend Jamie Lloyd Butler had climbed into Harlescott Junior School's grounds on 2 January, to take a shortcut home.
While he scaled a 10ft high (3m) fence on the far side, she failed to get out, eventually dying of hypothermia.
Mrs Gleeson, from Shrewsbury, speaking for the first time since Charlotte's death, is looking after her daughter, Lilly.
"We've told her her mum was poorly and the doctors couldn't make her better. She's too young to really understand at the moment.
"She cries every night and says she wants her mummy.
"When she gets older she's going to want to understand what happened.
"I just need her to know I did my best to find the truth."
'Few answers'
Ms Gleeson said the time between her daughter's death and being found meant it was difficult to piece together what had happened, while the inquest itself had given the family "no justice" and "few answers".
A post-mortem examination found Charlotte, originally from Walsall, had been taking drugs, but her mother said she was not a regular user and had been celebrating the New Year.
Mr Lloyd-Butler, currently serving a 32-week prison sentence for burglary, gave evidence to the inquest via video-link and denied he had left Charlotte to die.
He said he returned the following day, but failed to find her.
Ms Gleeson said she would like to see the police investigation reopened, but that would require new evidence being found, which was unlikely at this stage.
West Mercia Police said they were not looking for anyone else in connection with Charlotte's death.