Cheap appliances blamed for Shropshire 'freak' fires increase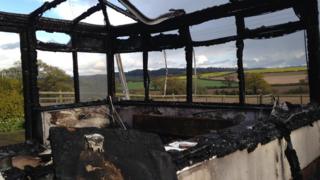 "Explosions" caused by faulty tumble dryers and washing machines have risen more than five-fold in Shropshire.
The county's fire and rescue service has issued a warning after the number of "freak" fires increased from five in 2014, to 28 last year.
In comparison, West Midlands saw an increase from 56 incidents in 2014, to 64 in 2015.
Cheap "white goods" bought online are thought to be one of the reasons for a rise in domestic fires.
Margot Foster's internet-purchased dryer caused a fire to destroy the metal garage and conservatory of her remote home near Cound, Shropshire, on 17 April.
"If I'd put it on while everyone was asleep, God knows what would have happened", she said.
Cookers were the main cause of domestic fires in Shropshire, responsible for 86 blazes from April 2015 to March 2016.
Joint second were tumble dryers and washing machines, each causing 14 fires.
John Das Gupta from Shropshire Fire and Rescue said: "The worldwide web has opened up a whole new market for consumers to purchase cheaper and potentially inferior goods."
A rise in single households and more over-65s living alone are also factors thought to be contributing to the spate in fires.