RAF Cosford Air Show welcomes thousands to Shropshire display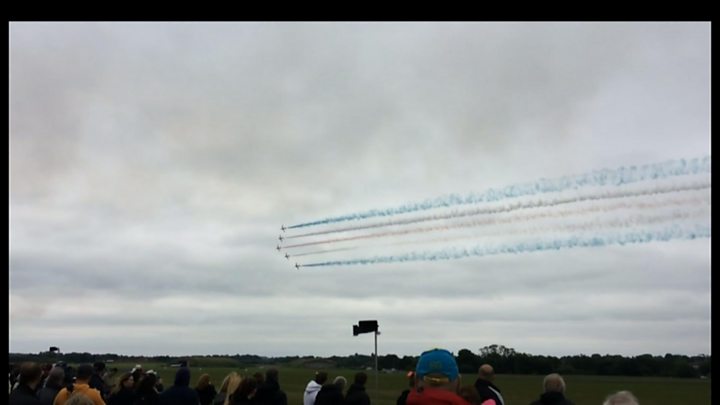 Thousands attended one of the biggest air shows in the UK despite concerns the Shoreham air disaster would affect attendance figures.
The RAF Cosford Air Show welcomed thousands of guests to its Shropshire base on Sunday.
It was the first air show at the base since last year's plane crash in Sussex killed 11 people.
RAF aircraft such as Spitfires, the Bristol 188, Fairey Delta II and Avro 707 were among the vehicles on show.
The event also featured a memorial flight in honour of the Battle of Britain from World War Two.
Concerns had been raised that new safety regulations brought in by aviation authorities after Shoreham would affect shows, and earlier this month Throckmorton Air Show cited the cost of complying with new rules as a factor in cancelling its event.
However, with more than 50,000 people visiting - a similar number to last year's attendance - Squadron Leader Chris Wilson, media officer for RAF Cosford and the air show, said it was a "very successful" event.
"It's important that we show the public what their air force does for them," he said.
Sqn Ldr Wilson said he was "disappointed" other events had disappeared since the new rules were put in place, but said organisers were "looking at safety from every angle all the time".
The Cosford air show was able to absorb increased costs in insurance and safety training, he said, adding the event would "certainly be here for the next few years".
"It's important that we do try and carry on with the traditions of the air shows," he said.