Major road closed for weeks after lorry crashes into house near Hinstock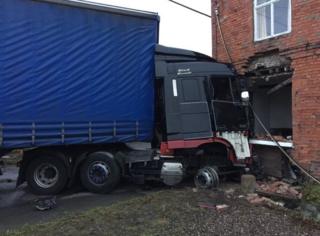 A major road through Shropshire will be closed until the middle of August after a lorry crashed into a Grade II listed house, authorities have confirmed.
The crash, which took place on 26 July on the A41 at Shakeford, near Hinstock, caused severe damage to the building.
The driver was not injured in the crash, and the owners of the home were not at home that evening.
Shropshire Council said parts of the building would have to be taken down "piece by piece".
A council spokesman said the owner's insurers were overseeing work to demolish "a large section" of the building, with any repairs to the road to take place afterwards.
"Reinforcement work will need to be carried out before the road can be reopened, as the weight and pressure caused by opening a running lane for traffic, even under signals, could cause further damage," they said.
"As soon as traffic lights can be installed to replace the closure they will be; however, until the condition of the cellar is known, we cannot remove the closure."