Market Drayton girl, 17, dies in car and lorry crash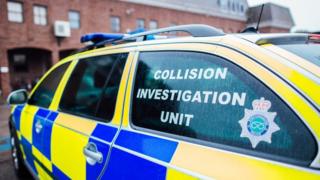 A 17-year-old from Shropshire has been killed in an accident between a car and a lorry.
The crash involving a red Suzuki Alto and an HGV happened on Sunday on the A53 in Blore Heath, on the Shropshire and Staffordshire border.
The driver of the car, a 17-year-old girl from Market Drayton, died at the scene.
Officers from Staffordshire Police were called at 22:35 GMT and the road was closed until 06:00 GMT.
The lorry driver was assessed and discharged at the scene.
Anyone who saw the collision or has information that could help Staffordshire Police's investigation has been asked to call the force on 101.