Shrewsbury and Telford Hospital NHS Trust fined over fall deaths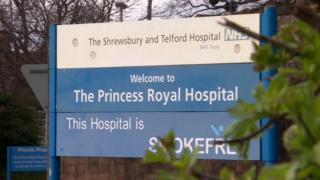 A hospital trust has been fined after five elderly "vulnerable" patients died after falling.
Shrewsbury and Telford Hospital NHS Trust was fined £333,333 after pleading guilty to breaching the Health and Safety at Work Act.
The patients, aged 72 to 92, died after falls at hospitals in 2011 and 2012.
Fall prevention measures, including close supervision of those in a confused mental state, were not applied properly, Shrewsbury Crown Court heard.
The trust was also ordered to pay £130,000 costs.
Midlands Live: Ceramic royal engagement pieces launched; Profumo had affair with German spy
The Health and Safety Executive (HSE) said four patients died after falling at the Princess Royal Hospital, Telford, and one at the Royal Shrewsbury Hospital.
Vince Joyce, HSE's principal inspector for Shropshire, said it was the trust's duty "to take reasonable precautions to prevent vulnerable patients from falling".
"Although policies and procedures were in place for this to happen, they were not consistently applied at the point of care," he said.
"In different ways, these patients were left exposed to the risk of falling which resulted in their deaths."
Lucy Anderson Edwards, great niece of Edna Evans, one of the patients, said after the case: "The rest of her remaining family can finally have some closure and move on from the somewhat horrifying past events and undignified circumstances in which Edna passed away."
Simon Wright, the trust's chief executive, said: "In the five years since these sad cases occurred we have made great improvements in reducing falls."
He said from 2015 to 2016, it reduced falls resulting in serious harm - those which lead to fractured hips - by a third. It was "working tirelessly to reduce the number of falls even further".
Measures included employing a falls-prevention nurse and introducing bracelets for patients at risk of falling.