Shrewsbury's shopping centres could be council run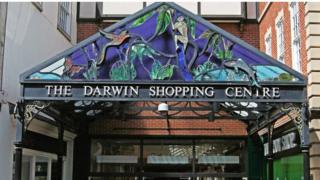 Shrewsbury's three main shopping centres could be taken over by Shropshire Council.
Negotiations are under way to buy the Darwin, Pride Hill and Riverside centres from UK Commercial Property Trust.
Council chief executive Clive Wright said it would be "the biggest investment" the authority had ever made.
The council has not disclosed how much the deal would cost.
The takeover would support "the economic growth and regeneration of Shrewsbury town centre," the council said.
In a meeting earlier, the authority's cabinet agreed to recommend to the full council it approves the purchase of the shopping centres at its meeting on Thursday next week.
The Conservative council leader Peter Nutting said: "I think Shropshire Council has spent too much time looking backward and we've got to start looking forward, we've got do things like this."
However, Labour councillor Alan Mosley said he believed there were "massive risks associated with the plans".
"There is an element that we have been bounced into making decisions too quickly, there hasn't been proper scrutiny," he said.