Telford doorman jailed for pub punch death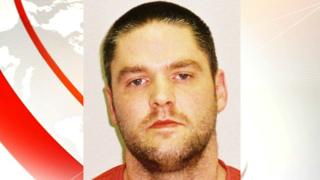 A doorman who punched a man has been jailed for causing his death more than five years after the attack.
Neil Hotchkiss was working in Telford, in 2012, when he was involved in a row with Scott Taylor, punching him in the head, prosecutors said.
Hotchkiss was jailed after admitting inflicting grievous bodily harm.
But after Mr Taylor's death four years later, he was charged with manslaughter, and has been jailed for a further two years.
On 17 August 2012, Hotchkiss was working as a doorman at the Station Hotel in Wellington.
Just after 21:00 BST Scott Taylor left the venue carrying a pint of beer and was told by staff that drinks could not be taken outside, the Crown Prosecution Service (CPS) said.
Head injury
As he went back inside, Mr Taylor made a comment directed at the door staff and was ejected from the pub.
A few minutes later, the 37-year-old defendant confronted Mr Taylor, the CPS said, and punched him in the head, causing him to fall to the ground and leading to emergency surgery.
In March 2014, Hotchkiss appeared before Shrewsbury Crown Court where he was jailed for 16 months.
Two years later, Mr Taylor died and in November 2017, Hotchkiss, of Stone Row in Telford, admitted a charge of manslaughter.
He was jailed for an extra two years at Stoke-on-Trent Crown Court on Wednesday.
Paul Reid, district crown prosecutor with West Midlands Crown Prosecution Service, said: "Our thoughts are today with the family and friends of Mr Taylor."