Shrewsbury offshore shopping centre purchase 'immoral'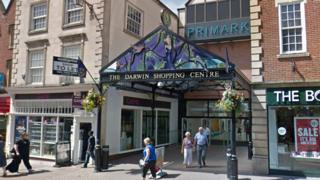 The purchase of three shopping centres by Shropshire Council has been criticised after it emerged the authority will not have to pay millions of pounds in tax.
The council is buying the centres from an offshore trust, meaning it will not have to pay stamp duty.
Although the move is legal, opponents described it as "immoral".
The council said it would move the trust "in shore" in six to 12 months' time.
Neither the owners or the council will comment further until the £60m deal is completed on 23 January.
The Conservative-run authority wants to revamp the Darwin and Pride Hill centres and take over the running of the Riverside, which it already owns, to bring in extra revenue.
The council is buying the centres through the UK Commercial Property Trust which is commonly used to buy and hold interests in UK real estate.
The BBC understands that the trust originally purchased the centres offshore, so that is how it is selling them on.
There is no stamp duty, VAT or equivalent forms of indirect taxation on the creation or transfer of assets to a trust based in Jersey.
Opposition councillors, who asked not to be named, said the deal was "immoral" and the authority "should not be doing this".
Previously, council chief executive Clive Wright said the purchase of the centres was "the biggest investment" the authority had ever made.