Firefighters rescue dog from Telford house roof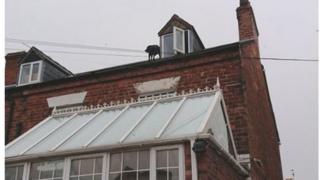 A hapless hound stuck on a roof had to be retrieved by firefighters, who said their rescue operation was "barking".
Three-year-old Rosie climbed out of a top-floor window of her home in Wellington, Telford at about 14:00 GMT.
Her owner called the emergency services after he could not rescue Rosie himself and feared she was slipping.
She is the second dog in Telford to need a roof-top rescue since November, when bullmastiff Ruby was collared by crews on a conservatory.
Firefighters from Shropshire Fire and Rescue tweeted to say Rosie was "none the worse for wear after her outing" and used the hashtags "barking" and "doggydaycare".
She was homeward bound within 20 minutes.
During Ruby's rescue in November, Craig Jackson from the Shropshire fire service said it had been a "first for everyone".