Hundreds march in Shrewsbury for Syrian peace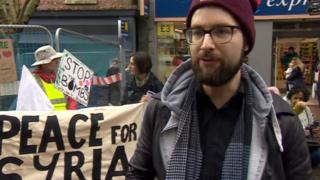 Hundreds of people have taken part in a march with Syrian families living in Shropshire condemning violence against civilians in Eastern Ghouta.
Around 400 people joined a "solemn and respectful" silent march in Shrewsbury on Saturday.
Organiser Shrewsbury for Peace said it wanted to show support for Syrians.
The Syrian government stepped up efforts to retake the rebel-held enclave in recent weeks, leading to more than 900 reported civilian deaths.
Alex Holmes-Brown, from the group, said: "We are here basically here to show that in Shrewsbury and the surrounding areas we do see Syria, we do care and we do want our government to act.
"We are calling for a ceasefire.
Organisers said there were some 14 Syrian refugee families resettled in Shropshire who all had relatives still in the war-torn country.
Alaa, who has close relatives in Eastern Ghouta where thousands remain, was among Syrians at the march.
Speaking through an interpreter, he said the families "wanted their voice to be heard" and were calling for an "end to the violence, to stop the killings of innocent people - children, women and elderly people".