Archie Spriggs: Mother threatened to 'do the unthinkable'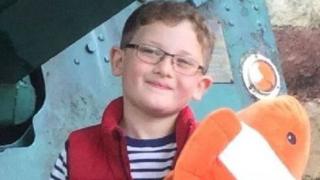 The mother of a seven-year-old boy who was found dead in his bed had threatened to do the "unthinkable" a court heard.
Lesley Speed, 44, denies murdering Archie Spriggs on the day of a custody hearing with his father.
Birmingham Crown Court heard she had written a letter to Archie before his death which she told jurors was about them both "disappearing".
Ms Speed admitted she suffers from severe depression and anxiety.
Archie was discovered dead in his bunk bed on 21 September last year at Ms Speed's home in Wall-under-Heywood, Shropshire.
Ms Speed was also found in the property, bleeding heavily from lacerations to her neck, arms and wrist.
As she gave evidence, the court heard Ms Speed had written letters to each of her three children, including Archie, prior to his death.
'Not capable'
In the letter to Archie, prosecutors said, Ms Speed wrote she could no longer protect her son from his father and that she was going to "do the unthinkable for us".
Asked by the prosecution if "unthinkable" meant killing herself and Archie, Ms Speed said: "Yes, going into the sea and drowning."
She then went on to clarify that she actually meant them both "disappearing".
In another letter to Matthew Spriggs, the prosecution said, she had written: "I hope this pain lives with you until your dying breath.
"Archie will now be free from pain and heartache with his Nan and grandparents in heaven."
Addressing Ms Speed, prosecutor Sally Howes QC said: "You'd done what you said in those letters, sent him to heaven, hadn't you?"
Ms Speed said: "No, I'm not capable of that."
Jurors have heard molecular analysis of a cushion belonging to Archie suggested "it was held over his face to asphyxiate him".
The trial continues.