Rabies jabs for girl, 8, after Shropshire bat bite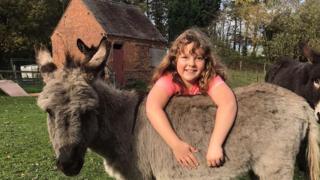 An eight-year-old girl was given anti-rabies injections after being bitten by a bat in her kitchen.
Honey Ball, of Billingsley, Shropshire, was bitten on the finger when she tried to remove the bat from her home with a tea towel.
After being warned of the risk of contracting rabies, Honey's mother Amanda Ball took her to a GP who gave her the jabs, The Sun reported.
She said: "Honey is OK now, but some of the injections were quite painful."
The bat flew in through patio doors in the kitchen on 20 April and Honey was bitten after it "wriggled out" of the tea-towel it was in.
Honey has since had five injections and must have two more.
Ms Ball, 38, who runs Shropshire Donkey Rescue Centre, said: "Honey yelped and showed me the tiny mark.
"I called 111 and was shocked they told me to take her to hospital over the rabies risk. I had no idea, if I had I wouldn't have let her go near it."
'Very rare'
The family went to Kidderminster Hospital but Honey was sent home without treatment.
"They were useless. When we got home, I contacted the Bat Conservation Trust who sent me information to give to our GP," Ms Ball said.
"We went and Honey was given the jabs, some of which had to go into the muscle in her arm. It was quite painful for her.
"But she's seen the positive side of it all. She said if a bat comes into the house again, at least she can help it out without being at risk."
According to the Bat Conservation Trust, some bats carry a rabies virus called European bat lyssavirus, which differs from the type of rabies associated with dogs.
A spokesperson for Worcestershire Acute Hospitals Trust which runs Kidderminster Hospital said it "cannot administer rabies injections" and "in this very rare instance" they advised Ms Ball to attend "an appropriate alternative health service."