Somerset man finds convenient use for old phone box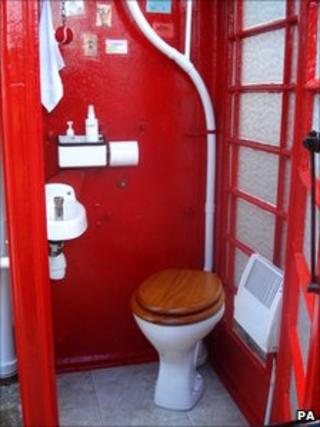 A 73-year-old man from Somerset has come up with an unusual way to re-use an old red telephone box.
Retired salesman John Long, 73, said he had spent months converting the former phone box into an outside toilet.
To be sure it would all fit before he bought it, Mr Long, who lives near Taunton, crept out at night with the pan and took it to a nearby phone box.
"I sat on it, hoping and praying no-one would come along and take me off to a nut house," he said.
The cubicle is now fully equipped with a porcelain lavatory pan, hand basin, high-level cistern, frosted glass panes, a heater and a red tennis ball on the end of the toilet chain.
"I'd wanted a red telephone box for years and I didn't have an outside toilet, so I thought I could combine the two.
"To be honest, I probably use it more often than the internal toilet now. It's just so convenient," he added.