Woman 'treated like a dog' while in Somerset hospitals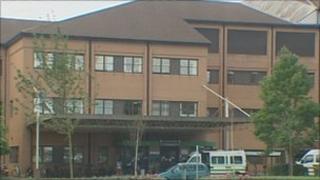 An 83-year-old woman was "treated worse than a dog" after she was admitted to Somerset hospitals with shingles, her son has claimed.
Dorothy Brown's son Paul said his mother was left to lie in her own urine while in Musgrove Park Hospital.
He said when she was transferred to Burnham Community Hospital she was prescribed the wrong drug and broke her legs in a fall.
NHS Somerset said it was "surprised" and was investigating the complaint.
Mr Brown said his mother, who had previously lived by herself, was now unable to care for herself and would have to go into a nursing home.
'Permanently in nappies'
Mr Brown said: "You wouldn't leave a dog in a situation like that, it's absolutely disgusting.
"Now she's in a state where she doesn't know who you are, doesn't know where she is.
"She can't walk and she's in nappies permanently... because they don't have the staff to take her to the toilet, so they just leave her in them.
"She is totally a different person to the one who went into hospital with shingles."
Mrs Brown was admitted to Musgrove Park in July with shingles, which produces painful blisters.
She is now in Weston General Hospital after being moved there from Burnham Community Hospital.
Mr Brown said: "Everybody has a mum and dad and everybody will get old one day so the treatment of the elderly in hospital needs to be improved 100%."
Paul Courtney from NHS Somerset said the trust received 115 complaints last year, 17 relating to community hospitals.
He said the trust strived to "treat patients as individuals and that their privacy and dignity was respected".