Somerset council 'may not renew' Tour of Britain deal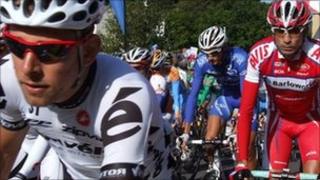 Britain's premier cycle race, the Tour of Britain, could bypass Somerset in future years as the county council has said it may not renew its sponsorship.
The county hosts two stages of the cycle race each year in a five-year contract worth £775,000.
With the council being £350m in debt, councillor Christine Lawrence said it would be difficult to find the money to support it.
Tour organisers said it brought in £6m to the local economy last year.
The tour's chief executive Hugh Roberts said the free event's impact was "immeasurable".
'Very sorry'
"I think we can demonstrate to people of Somerset that from the point of view of attracting tourism, we can easily justify their investment that they make.
"Now the economic environment is improving, we need to work with local organisations to get them to invest."
Ms Lawrence said: "I'd like to think we can [continue with the event] but if we can't, people will have to understand that perhaps it was a step too far and for that I will be very sorry."
Formal discussions for the Tour's contract renewal have not yet begun.
The Tour of Britain is a national cycle race taking in eight stages across the country and attracting an estimated 1m spectators.
Starting in Rochdale on 11 September and ending in London on Saturday, 100 of the world's best cyclists cover 1,230km (760 miles) across Stoke, Wales, Somerset, Devon, Norfolk and Essex.
Stage four started in Minehead and finished in Teignmouth, Devon, on Tuesday. The fifth stage will see cyclists race from Tavistock, Devon, to Glastonbury on Wednesday.