Somerset church warden urges return of stolen bells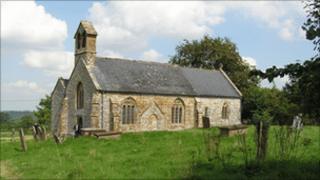 A Somerset church warden has appealed for thieves who stole two 17th Century bronze bells to return them.
The bells, from St Michael's Church in the hamlet of Cudworth near Ilminster, had been undergoing repair at a foundry in Bridport, Dorset.
They were among nine taken from the foundry on Monday night.
Church warden David Treasure said it was "shattering news" to learn they had been stolen and the church could not afford to replace them.
"They're part of our heritage, part of our history, part of Somerset's history, he said.
'Historically unique'
"One is from 1607 from a foundry near Montecute, the other is from 1678 and from South Petherton, so they are very local bells and mean a great deal to us.
"Now, who knows, they might be melted down which is tragic."
The tenor and treble bells each weigh more than 125 kg (275 lbs) and are about 55cms (22ins) in diameter.
"Historically, they are unique," said Mr Treasure.
"You can't replace them. There's nothing you can replace them with.
"As a church we're broke. I don't know what we're going to do, we're in a quandry."
Dorset police said the raiders entered through a window at the foundry and used a forklift truck to transfer the bells into a vehicle.
The nine bells were said to be worth between £250 and £3,000 each.