EDF Energy: 'More consultation not needed'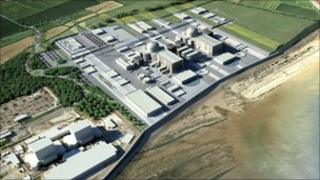 EDF Energy says despite widespread criticism, there will be no need for further consultation on its plans for a new nuclear reactor at Hinkley Point.
The energy company said it had already held more than 20 weeks of consultation which was "much more than is normal".
Three Somerset councils have criticised the proposals, saying there was a lack of information and that the plan was "inadequate" in its current form.
They said they wanted more details on plans for transport and accommodation.
David Hall, cabinet member for economic development at Somerset County Council, said: "There's more of a feeling of distrust in the community, and EDF need to overcome that if they're going to get everyone back onside.
"They've spent a considerable amount of time talking, but what I think EDF should bear in mind, is that quantity doesn't necessarily mean quality."
The stage two consultation ends on Monday. EDF Energy will then submit their proposals to the government.
David Eccles from EDF said government guidance required stage two to be an outline of preferred proposals and not a full draft.
He added the company would continue to work with local councils on their plans.
If the reactor gets the go-ahead, it is expected to generate a £500m boost to the South West economy through the employment of up to 5,000 people on the site during the construction phase.