Family concern over Chard woman's hanging death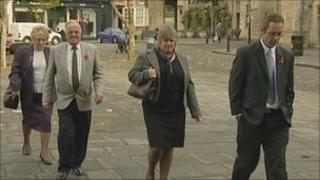 An inquest has heard that a 44-year-old woman was found hanged in the bathroom of a psychiatric hospital ward.
Nicola Locke, of Chard, died at Summerlands Hospital in Yeovil on 9 August 2009.
She had been committed to the hospital after having attempted to kill herself three times in one week.
Her family say they hope the hearing, in Wells, will provide answers over the level of care and supervision she received at the unit.
Mrs Locke had developed psychosis and severe depression after becoming concerned about relatives' serious health problems.
Dressing gown
The inquest was told she believed people were out to harm her and that she was being followed and spied on by helicopters.
After her three overdose attempts, she underwent an assessment at Musgrove Park Hospital in Taunton and was later sent to Summerlands for treatment.
She was found hanged at the hospital by her dressing gown cord by staff on Rowan ward.
Family members who are attending the inquest say they asked the hospital to remove the cord because they were worried that Mrs Locke would attempt to kill herself.
However, the mother of two had only been assessed as a low-level "grade one" risk.
'Not satisfied'
People in this category are checked once an hour by staff.
The court was read a letter from Mrs Locke's parents, Eileen and Brian Bethal, which said: "We are not satisfied with the care she received at Rowan.
"We had stipulated to take away the cord. Why was she not better supervised? You'd hope better supervision would be given to a new patient."
A nurse told the hearing it was necessary to keep the dressing gown tied together because of dignity concerns on the mixed-sex ward.
Chris Mortimore, medical director of the Somerset Partnership NHS Trust, said: "It's not possible to remove access to all ligatures, anything can be used - clothing, bedding, belts and shoe laces.
"I think the decision [not to remove the cord] was reasonable at the time."
Mrs Locke was found hanging at 1000 BST and died later the same day.
Coroner Tony Williams is expected to give his verdict on Wednesday.