Rare bat rehabilitated by West Hatch RSPCA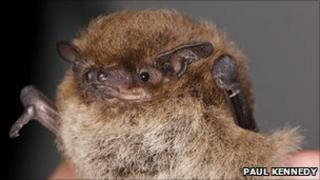 A rare species of bat found "a bit squashed" in a builders hut has been undergoing rehabilitation by the RSPCA.
Staff at the West Hatch rescue centre have been nursing it back to health after it suffered internal bleeding.
Wildlife assistant Paul Kennedy said: "It's not very strong and couldn't fly very well when it came in, so we're having to give it exercise."
There have been about 650 recorded sightings of the bat - Nathusius' pipistrelle - in the UK.
Mr Kennedy said: "We think it's been a bit squashed in the shed.
"They were moving some pallets of wood inside and it was actually hibernating in the wood."
He said the bat had since made good progress and was "stable".
"We've had a very cold winter which is good for bats because they can hibernate through the winter.
"But when we get mild periods they sometimes wake up and then they do get into trouble."
The staff are now trying to keep the bat awake to make it exercise and heal its wings properly.
"Ideally we'd like to put it in our outside bats area, but if we do all it's going to do is fall asleep."