Minehead Town Council's concern over CCTV funding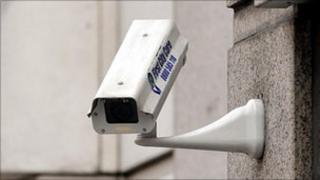 CCTV cameras at a Somerset seaside resort could be at risk as a town council says it does not have the funds to operate them.
Minehead Town Council said if the district council was forced to make more cuts, then it may be asked to take on the monitoring of the cameras.
CCTV is currently operated by the district council in partnership with the town council and police.
West Somerset Council said any future changes would be consulted on.
The CCTV cameras in Minehead have recently been extended from the town centre to the seafront.
Minehead Town Council chairman Rob Bridle, an independent, said: "It's not just about costs, it's about labour. We only have five ground staff."
West Somerset is the smallest district council in England and is run by a Conservative/Independent coalition with a Conservative leader.
It is facing government cuts of £600,000 (17% of its budget) and has previously said it may collapse if it faced any more cuts.
Mr Bridle said if West Somerset Council had any more cuts, he was concerned that his authority would have to take over the running of all of the new cameras.
A spokeswoman for the district council said it would be for councillors elected in May to consider what savings should be made in 2012 and 2013.
'Go blank'
Other Somerset councils are also looking at how much they spend on CCTV cameras.
Sedgemoor District Council is looking at plans to reduce its spending on CCTV by 20%, which will mean the cameras will still record what is going on, but will not be watched all of the time.
Taunton Deane Borough Council said the cameras in the multi-storey car park in Paul Street would go blank from 2100 until 0600.
Volunteers already monitor cameras in the Mendip and West Somerset council areas and volunteers may be recruited to monitor cameras in the future.
Councils are not legally obliged to operate CCTV cameras.