Helicopter firm AgustaWestland takes new direction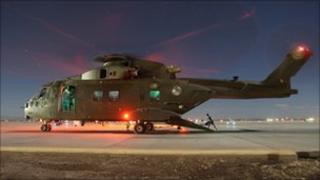 It is the biggest employer in south Somerset with about 4,000 people working there, but now helicopter firm AgustaWestland is heading in a new direction.
As the Ministry of Defence's budget is tightened, the company is expanding to the commercial sector to cope with financial pressures.
The Yeovil-based firm is planning to build civil helicopters which it hopes will be used by the police, air ambulance, coast guard or "rich people wanting a helicopter to play with".
Outgoing managing director Graham Cole said: "Looking to the future, I'm excited about the potential for us to become involved in civil helicopters. This will change things.
"Yeovil is traditionally a military supplier. We've done that throughout our history and we're very proud with relationships with services and don't forget that people from this area are engaged in theatre and are using our product.
"With defence spending becoming less certain, we need a program that will have engineering work, technical work, development work and significant production work."
The new boss, Ray Edwards, agrees.
"We are trying to do everything to give ourselves a broader spectrum of capability to be able to work in the commercial market as well as in the defence department.
"Customers' requirements do change. What war you are facing today might be something totally different tomorrow. The more agile we can be, the better it is for sustaining our work."
This is not the first time the company has tried to supply the commercial sector.
In the 1970s it met problems while trying to sell the Lynx helicopter and only 40 were built.
In a highly competitive industry, change is something the company has become accustomed to.
In 2000 it merged with Italian company Finmeccanica, something which, according to Mr Cole, has brought more stability to the firm.
"There will be challenges and there's no doubt that the last time we tried to enter into the commercial market we had some difficulty," he said.
"Now with the support and the experience of our Italian colleagues, I think we all feel more confident in being able to do it."
'Tough global operation'
Mainly a military supplier, the company was recently awarded a £570m contract by the Ministry of Defence (MoD), which has helped the company retain all its staff.
"It was difficult and we had to navigate our way through some tough decisions but we did not have a redundancy. That's an expression of how important it is to keep and develop Yeovil," said Mr Cole.
"I love living in Yeovil, it's very peaceful, but when you come in through the gates, you're in a tough global operation of helicopters where people in America and people in France and people around the world are looking to take your business.
"It is a tough one but we're doing ok."