Travellers speak out on Somerset bus cuts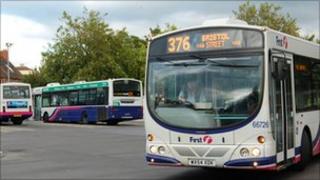 The impact of the cuts to Somerset buses is hitting home.
Tourism, businesses, commuters and travellers young and old have all spoken out about the £2.6m (46%) cut to bus subsidies by Conservative-run Somerset County Council.
It means 15 bus routes have been cut completely as have other evening and weekend services.
First Bus has cancelled five routes while services operated by Quantock Motor Services, Hatch Green Coaches and Frome Minibuses are all either being scaled back or cut completely.
Noah Burton, 17, from Ilminster, said the cuts meant he might have to cancel some of the music gigs he puts on as people would not be able to get home from them.
Kitty Macfarlane, 17, valued her bus service so much she wrote a song about it last year, before the cuts were announced.
"The bus is a big part of my life because it means I can move from my little village of Milverton to the big town of Taunton and back again without having to bug my parents for a lift so for my social life it's really important," she said.
Businesses have also raised concerns.
Julia Knight, a bed and breakfast owner in Glastonbury, said: "A lot of our guests come from abroad so they're dependent on public transport.
"Many arrive in the evening so they have no option but to take an evening bus and if all the buses are cut, they're definitely going to think twice about coming to Glastonbury."
Tom Ashton, director of Somerset Tourism Association, said: "When tourism is the second highest income earner after agriculture for Somerset, it appears more and more that councils and government are doing less and less to support tourism which is a daft policy.
"Yes they can add up figures but they're useless at any kind of business enterprise."
Norman Brown from the South West Transport Network said the cuts would mean Somerset's roads would be busier as people give lifts to those who have not got a car.
First said it had tried to minimise the impacts of the cuts and that it would revisit its decision in a few months to access the impact as it could not "support loss-making routes indefinitely".
The council's leader Ken Maddock said he realised the cuts were not popular but said it could not be helped.
"I'm very sorry. I know that the difficulties we're in because of the shortage of money will impact on every single person in this county," he said.
Mr Maddock said some of the subsidies were not a good use of taxpayers' money, and that one route was subsidised by £26 per passenger.
"Bus companies will go back and look at it again to see how it has worked out for them because they're the ones who decide which services to run.
"We have cut their subsidies in many cases and they have worked out for themselves what services can continue without the need for subsidies so it's down to them in the end although I appreciate we have an important influence on that."