Weston-super-Mare's Tropicana developer withdraws bid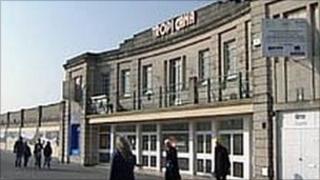 The last remaining bidder for the redevelopment of the derelict Tropicana site on Weston-super-Mare seafront has withdrawn from the project.
The Nightingale Group had been in talks with North Somerset Council over plans for the old swimming pool since its competitor withdrew in January.
Richard Nightingale said he was "heartbroken" that the council would not accept its proposals.
Council leader Councillor Nigel Ashton said he was "very disappointed".
The council had granted the Nightingale Group exclusivity rights on the site in February.
'Extensive talks'
Mr Nightingale said: "'We have worked very hard over the last 14 months to put forward proposals for the redevelopment of the Tropicana that were voted for and supported by the local community.
"We were devastated by the council's recent rejection of our proposals, which we were given to understand was due to European legislation.
"Since then, we have had many days of extensive talks, and have extended and re-extended our deadline to the council, but have not been able to convince them to accept.
"It was always important to us that we build a facility that residents actually want, and that our proposal would benefit Weston for years to come.
"It has now become clear to us that, sadly, this will not happen, and we have therefore been forced to withdraw accordingly."
Councillor Ashton said they would need to carefully consider the future of the site after three separate unsuccessful schemes.
"I am very disappointed to hear that Mr Nightingale has withdrawn from the process," he said.
"The council has worked hard to be as accommodating as possible to Mr Nightingale's requests and has done its utmost to support him as he developed his proposals.
"Over the past month, and up to as recently as Monday of this week, the council has made repeated offers to meet Mr Nightingale, his team and his proposed operators - even offering to travel to London to meet them if that would have been more convenient.
"I will leave the people of North Somerset to draw their own conclusions as to why Mr Nightingale did not allow these meetings to happen.
"People should know that the council has never rejected his proposals and senior members were keen to discuss real options for his need to provide parking."
Mr Nightingale apologised to residents for not making the plans a reality.
"The whole team, especially myself, are heartbroken, not to see the Tropicana start a new life, as a redeveloped, first-class leisure facility."
The building, which enjoyed its heyday in the 1960s, has been empty since 2000.