Swan shot in Somerset to be released into wild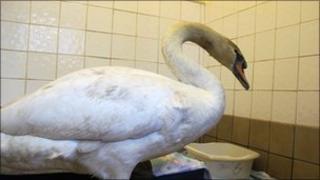 A female swan which survived being shot with an airgun in Somerset will be released back into the wild.
Eight birds were shot in the head with airgun pellets and were found outside Blackford in an incident thought to have happened on 21 February.
The swan will be released by Secret World Animal Sanctuary workers at an undisclosed location.
Three men, aged 34, 37 and 45, have been arrested and bailed in connection with the shootings.
An Avon and Somerset Police spokesman said the trio were arrested on suspicion of criminal damage.