Solo the swan shot in Somerset finds a mate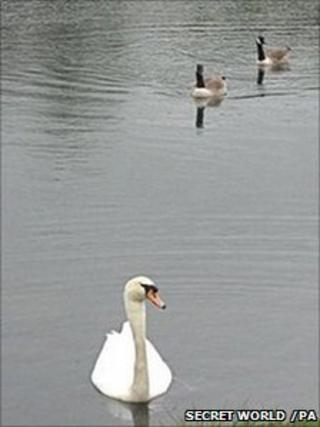 A swan that survived being shot with an airgun has found a mate.
The female bird, named Solo, was the only survivor after eight swans were shot in the head and killed on the Somerset Levels.
They were found outside Blackford in the Wedmore area in an incident thought to have happened on 21 February.
After being nursed back to health at the Secret World centre, Solo was released into the wild at a private lake.
The lake, at a secret location, was home to a "lonely" male swan. A spokesman from Secret World said the pair were now "inseparable".
Animal care manager Sara Cowen said a couple had contacted the centre to offer their lake as a new home for Solo after reading about the incident.
She said: "We are delighted to have such a happy ending to a distressing story and we hope Solo will find happiness with her new mate."
Three men aged 34, 37 and 45, were arrested on suspicion of criminal damage in relation to the shootings, and have been released on bail.