Somerset duo aim to break crawling record for charity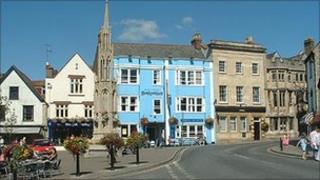 A father and daughter from Somerset are attempting to set a new Guinness World Record for crawling continuously around Glastonbury's Market Cross.
Terry and Ceri Williams aim to crawl around a 25 metre circuit for 50 hours in a bid to break the current record of 35.18 miles (56.62km).
The duo hope The Helmand Crawl will raise £20,000 for The Rifles' Care for Casualties appeal.
The appeal helps families who have lost loved ones in Afghanistan.
"The training to start off was very hard," said 54-year-old Terry.
"The rules are very explicit that we have to remain in the crawling position.
"The knees must not leave the ground. They have to stay permanently in contact with the ground, 100% of the time."
'Knee pads and gloves'
Ceri, 20, has been training hard for the challenge by crawling around her bedroom.
"My bedroom floor is wood, so I've got knee pads and gloves and stuff for protection.
"I've got my iPod and MP3, so I'm just going to crawl to Muse."
Terry served with the 1st and 6th Battalion The Light Infantry and said he was "humbled by the sacrifice and commitment of all our armed forces".
"The Rifles are the number one infantry regiment in the British Army and their losses have been quite substantial," he added.
"That's why we wanted to show that we do appreciate what our young servicemen are doing, no matter where they are serving in the world."