Plans to build jetty at Hinkley Point for power station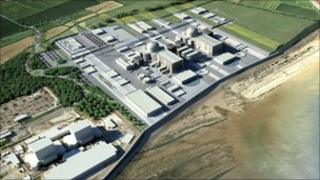 A debate will be held at Sedgemoor District Council about plans to build a temporary jetty and harbour at Hinkley Point.
The 500m long jetty will take delivery of the construction materials for the power station if consent is given to build the nuclear facility.
EDF Energy has said the jetty would avoid 80% of shipments being delivered by road and will reduce congestion.
The final decision will be made by the Marine Management Organisation.
West Somerset Council refused to give their support at a meeting on 23 March because they believed the jetty application should not be considered separately to the application for the nuclear power station.
The council also wanted clarification on plans for portakabins to accommodate 60 workers at the jetty.
They have submitted a formal objection to the plans to the Department for Energy and Climate Change.
Sedgemoor District Council have also submitted a holding objection on the same grounds and the full council meeting will decide on whether to make this objection formal.