Somerset rugby referee on list of top female officials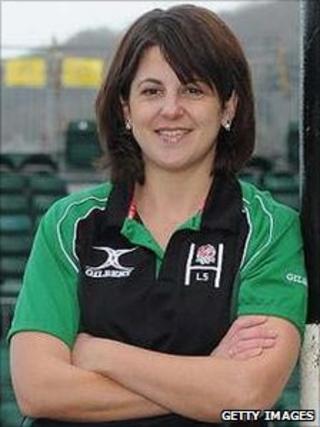 A woman from Somerset has been recognised as one of the world's leading female rugby referees.
Clare Daniels, 36, from Street, will now be able to officiate international men's and women's matches after being appointed to the women's referee panel.
Ms Daniels, who has spent a decade as a referee, is the only British woman on the eight-strong list.
She said: "This is my dream job. It's is a great opportunity for me."
Consistent performances
Ms Daniels, who works for the Rugby Football Union recruiting referees from the south west, has already taken charge of an under-18 men's friendly international between Germany and Ireland in Berlin.
She has officiated at three Women's Rugby World Cups, the Sevens World Cup, this season's Women's RBS 6 Nations Championship and in the National Leagues.
International Rugby Board women's development manager Susan Carty said: "This is a major development for the women's game, which is continuing to go from strength to strength worldwide."
The women's referee panel also includes Sarah Corrigan (Australia), Joyce Henry and Sherry Trumbull (Canada), Sylvie Bros (France), Gabriel Lee (Hong Kong), Nicky Inwood (New Zealand) and Dana Teagarden (USA).