New surgical sterilisation unit at Yeovil hospital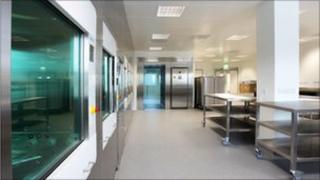 A Somerset hospital has unveiled a new "state-of-the-art" building which it hopes will improve cleanliness levels.
Yeovil District Hospital's £3.8m Sterile Services Decontamination Unit meets the most up-to-date national and international guidelines.
Staff will be responsible for washing surgical instruments for theatre use, for both on and off-site services.
"Keeping our patients safe is Yeovil District Hospital's top priority," said Yvonne Thorne, head of nursing.
"This investment in the sterile services unit ensures that all our operating equipment is decontaminated to the highest of standards.
"What the patients may notice is that we have a much more effective service, a much more responsive service to them."
A new specialist computer system will also allow staff to track all theatre instruments through the decontamination cycle.
The new building is the first sterile services unit in the country to receive an 'excellent' rating under the BREEAM environmental assessment scheme.
It recognises a building's sustainable design and environmental performance.