Flood-prone Somerset school to be rebuilt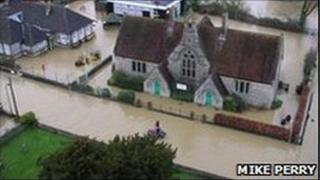 A Somerset school which is prone to flooding is to be rebuilt.
County councillors have agreed £2.75m of funding to replace Countess Gytha primary school at Queen Camel, near Yeovil.
The school has campaigned for a new site after a series of deluges - the last in December 2008.
Plans to rebuild the school were put on hold with the change of administration in 2009, but it was recommended the scheme should now go ahead.
The school is sited near the River Cam, which overflows during heavy rainfall.
The 2008 deluge left buildings under 3ft (0.9m) of water.
School 'thrilled'
The new school is planned to be built next to a field by the local health centre.
Headmistress Janet Mills said she had told parents of the hopeful news in the latest newsletter.
"We're thrilled to bits. We heard last week we were likely to get the funding," she said
"I've been putting off telling the parents, but this is the last newsletter before Easter and I wanted to let them know."
John Osman, cabinet member for children and young people on Conservative-controlled Somerset County Council, was urged to approve the funding.
A replacement for Yeovil's pupil referral unit and plans for Churchfield school in Highbridge, Sky College in Taunton and a new autism base at Heathfield school in Taunton have also been approved.