Asylum bid for Afghan teenager in Glastonbury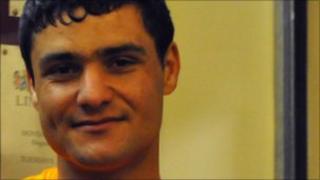 An Afghan teenager in Glastonbury has begun his appeal to remain in the UK after his bid for asylum failed.
The boy, who wants to be known as Gus, first arrived in September 2008 and faces being deported on his 18th birthday in October.
Jo Stevenson, head teacher at St Dunstans school, which he attends, said he fled to the UK after his brother was forced to fight for the Taliban.
The UK Border Agency said it considered each asylum application on its merits.
Under the asylum laws, unaccompanied minors are allowed to stay in the UK until they are 18.
'Body on doorstep'
Ms Stevenson said she was speaking on Gus's behalf because his English was not very good.
She said: "Men from the Taliban took his brother away to fight with them against his will.
"A month later, his body was found on the doorstep."
She said his mother, who was worried for his life, paid for him to have safe passage out of Afghanistan.
The journey took two months.
Fears retribution
She added: "I know he is extremely worried about it, the whole school community is behind him, other local schools have expressed their support. We're doing all we can to raise awareness of his situation.
"It's hard to us to understand and appreciate - he says that people in the Taliban don't forget.
"It doesn't matter if its 10 years down the line or whatever, they seek you out and if there is a background then retribution will be quick and that's the concern for him if he goes back.
"So it's not a case that if you go back to the cities you will be safe there, he says you will be in danger."
The boy's legal team have applied for him to be given permission to remain in the UK once he turns 18 on 1 October.
A spokesman for the UK Border Agency said: "We carefully consider each case on its own merits and make decisions based on the evidence supplied. If someone is found to be at risk they will be offered protection."
The campaign group Young People Seeking Safety organised a gig to promote his cause at Yeovil Labour Club on Friday.