Jamie Cullum's father is High Sheriff of Somerset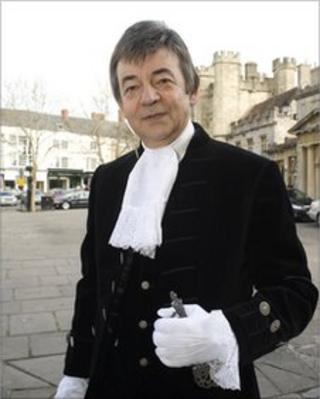 The High Sheriff of Somerset has joked that he only took the job so he would not just be known as being jazz musician Jamie Cullum's father.
John Cullum, from Bath, said he took on the voluntary role for "the honour" of being the Queen's representative for justice in the county.
The position is mainly ceremonial, and involves attending over 300 charity functions a year.
His son Jamie said he was "incredibly proud" of his father.
Formally the role involves supporting the police and judges in the county.
"I'm just realising how big a county Somerset is and I'll support it as much as I can," he said.
"I'm doing it to be known as the High Sheriff and not Jamie Cullum's dad - I'm doing it for the honour."
Mr Cullum moved to Bath in 1998 and serves in various roles in the private, public and voluntary sectors.
The position of High Sheriff dates back to Saxon times, when the "Shire Reeve" was reported to the king on matters of law and for taxes due to the Crown.
To become High Sheriff, potential candidates are put forward to the Queen who then "pricks" the candidate with a silver pin.
This tradition dates back to Queen Elizabeth I who was embroidering when she was asked which sheriff to choose and did not want to be bothered so instead she made her decision by sticking her bodkin on the list.
It is also a foolproof way of deciding, as once a hole is made, there is no mistaking whose name is on it.
'Bowled over'
Mr Cullum was sworn in at a ceremony held at Wells Cathedral last month.
"It was Britain at its best - we know how to do ceremonial. There was so many chains and robes on display," he said with reference to the number of mayors and other officials dressed in their finery.
For his part, he had to wear a fetching pair of pantaloons and a sword.
"I showed (Jamie and the rest of his family) early on what I was wearing so they could get the laughter out of the way so that at the cathedral they could look serious.
"They all loved the ceremony. The music was stunning and they were very bowled over."
And son Jamie said: "My brother and I were incredibly proud to watch my dad take on this great honour. If there is anyone we know who can do good in this position - it's him."