Immigration film handed to Somerset Archive Centre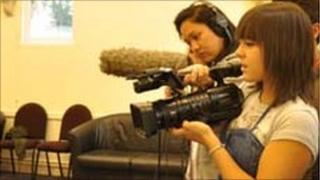 A group of teenagers who made a film about immigration have handed it to Somerset Heritage Centre.
The documentary was made in response to racist attitudes in their schools to show the positive side of immigration.
Heritage learning manager Helen Mansfield said: "Every archive or museum collection should represent its community that it's serving, this is a perfect opportunity for us to do that."
The film project was led by the charity Glade with Heritage Lottery funding.
All of the filming, editing and interviewing was carried out by the teenagers who are themselves from diverse backgrounds.
They began the project in April 2010 with mentoring from Somerset Film.
Project manager Jessica Witchell, from Glade, said: "Some of the schools that the pupils are at, who made the film, in the mock elections there was a rise of BNP and fairly racist attitudes, especially towards immigration, so that was the reason for making the film."
People on the Move featured a total of 25 people from countries including Afghanistan, Sudan and Angola.
As well as the completed film, the individual interviews will be stored at Somerset Heritage Centre for the public to access.