Objects reveal history of Glastonbury Abbey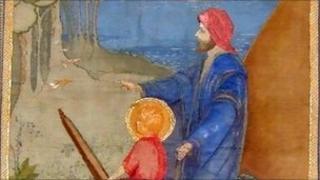 Medieval artefacts will form part of an exhibition detailing the history of Glastonbury Abbey before and after its dissolution in 1539.
The items, including a 14th century seal, Iron age pottery and a church banner, have not been exhibited before.
It is hoped these artefacts will give an insight into life at the monastery although it does not aim to be a comprehensive history of the Abbey.
The exhibition runs from 16 April to 31 May and is open daily.
All the objects were chosen by Abbey Trustee, Dr Tim Hopkinson.
He said: "A surprising amount can be learnt from just a few surviving objects.
"Some of them tell us about life at the monastery, while others help us understand how the Abbey's history and legends have been interpreted over the years."
Apart from the artefacts visitors can also learn more about popular legends, such as Joseph of Arimathea's visit to Glastonbury, where he is said to have planted Jesus's staff into the ground at Wearyall Hill.