Ice cream van rescued from Burnham-on-Sea beach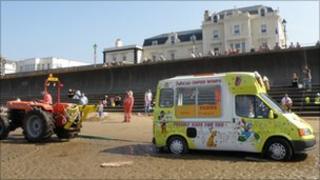 An ice cream van had to be rescued when it became stuck in the sand on a Somerset beach.
The vehicle was in Burnham-on-Sea on Sunday when its rear wheels sank into soft sand next to the jetty.
A tractor belonging to the Burnham-on-Sea Area Rescue Boat (Barb) charity, which was nearby, pulled the ice cream van free.
The van's owner thanks his rescuers and said he had made a donation to Barb to help cover the costs of the operation.