Funding offered for nature projects in Quantock Hills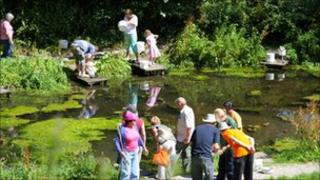 People in Somerset are being offered the chance to run a nature project with funding from a conversation group for the Quantock Hills.
The Sustainable Development Fund (SDF) has £45,000 to spend on projects which benefit the local community.
Iain Porter, AONB manager said: "A project will have a better chance of being successful if it meets the needs of a wide range of people."
Last year's projects included workshops on beekeeping and learning about owls.
The SDF can award grants of between £100 and £10,000 which is run by the Quantock Hills Area of Outstanding Natural Beauty (AONB) Service.
This organisation is funded by DEFRA, Somerset County Council and three district councils.
In addition to making the project accessible to wide range of people, the project has to meet other criteria such as protecting the environment, contributing to the rural economy and careful use of natural resources.
All the applications have to have the support of the local community and meet the overall aims of the Quantock Hills AONB Service.