Tobago machete attack accused has case 'discharged'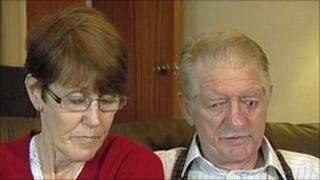 The case against a man accused of attempting to murder a Somerset couple at their Caribbean home has been discharged, a high commissioner said.
Peter and Murium Green were seriously injured when they were attacked with a machete while in Tobago in 2009.
The British high commissioner for Trinidad and Tobago said the case against Clint Alexis, 25, of Breadfruit Alley, Argyle, had been discharged.
Eric Jenkinson said the magistrate there had cited a lack of evidence.
He said he understood that the magistrate had wanted Mr and Mrs Green to return to the island to give evidence, something which Mr Jenkinson said was "unrealistic".
Previously the couple, who are originally from Berkshire, said that they were too frightened to go back after threats had been posted online saying that if they returned, they would be killed.
'Extraordinary experience'
Mr Green was left blind in one eye, has head injuries and is now partially disabled. Mrs Green was slashed across the face with a machete in the attack.
Both have had numerous facial reconstruction operations over the past 18 months.
"I'm disappointed that it's reached this stage," said Mr Jenkinson.
"They went through an extraordinary experience. I saw them after the attack and it was horrific. They chose not to come back I can understand that."
Having a case discharged is not the same as having it dismissed, so the case remains active.
The high commissioner said he was talking to the police and authorities on the island to try to get a resolution.
"It's taken a long time to get this far and the judicial system here is notoriously slow, but we're pressing all the buttons that we can," he said.