Royal harpist's college concert in Somerset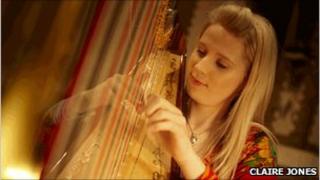 Prince Charles' official harpist who is playing at the royal wedding reception is also set to hold a recital in Somerset.
Claire Jones will perform at Somerset College in May after her Buckingham Palace booking and a tour in the US.
She will be touring with Superact, an organisation which brings music and the arts to schools, prisons and hospitals.
"I'm also really looking forward to hearing some of the music that will be played at the college," she said.
Miss Jones was appointed as the official harpist for Prince Charles in 2007 for a two-year period but was asked to continue her role for another two years.
'Great honour'
"It's such a great honour to be asked to perform at Her Majesty's reception at Buckingham Palace by the young couple, Prince William and Catherine Middleton so it was very exciting when the call came when they said they would like to book me for the day," she said.
As part of her duties she has played her harp several times for Prince Charles and the Royal Family, including the Queen.
"I've got several lovely memories of meeting Her Majesty at Buckingham Palace," she continued.
"Obviously the Prince of Wales is my main employee and he is the one I perform for on a regular basis but I've also done performances for the whole family, so it's been a really intriguing time.
"The Prince of Wales does keep up to date with my career as a young international artist, so it's very nice that he always writes to me and talks to me at every engagement."
'Secret repertoire'
Her music will greet the royal couple as they enter Buckingham Palace which she will play inside the Green Drawing Room.
"The media from all over the world have been intrigued because I will be there in that private part of the day and no other musician will be there so I feel very honoured to have been asked," Miss Jones said.
"The repertoire is a bit of a secret but I can point towards the fact that Catherine has been listening to my harp concerto CDs and my solo harp CDs and she has picked out various tracks from those that she really adores and likes so I've had a point towards her taste and Prince William's taste.
"I've tried to initiate it all together and give them a really great variety."