Liberal Democrat election signs vandalised in Somerset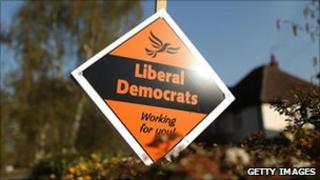 Liberal Democrats in Somerset have said they believe they are being targeted by vandals after election campaign boards were damaged or went missing.
A total of 25 boards were damaged in the Highbridge and Burnham area.
Liberal Democrat candidate Joe Leach said: "It is particularly bad this time, we've lost five big boards and some have been hacked apart and some have been ripped from their hoardings."
Avon and Somerset police have been asked to investigate the issue.
"I think it is probably because we have more boards up than the opposition but it is the same boards being torn down," added Mr Leach.
The Conservatives who are the main opposition have reported no problems in their signs being torn down or vandalised.