Somerset celebrates royal wedding with street parties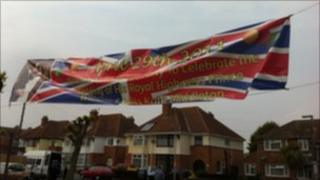 Tea parties and street celebrations were just some of the ways people in Somerset marked the wedding of Prince William and Kate Middleton.
The day started with Taunton's Brewhouse Theatre's "royal breakfast".
Events took place across the county from Weston-super-Mare's Grand Pier to Frome Community Hospital.
Twenty servicemen from RNAS Yeovilton also played a part in the wedding as they had the honour of lining the steps of Westminster Abbey.
Petty officer Daniel Boardman said 42 Company was selected as it was deemed to have the "cleanest drills".
"It's nice to be recognised for such senior service and to get that honour and to be in that position," he said.
"All the boys feel rightly proud."