Musgrove Hospital to keep staff as part of £20m cuts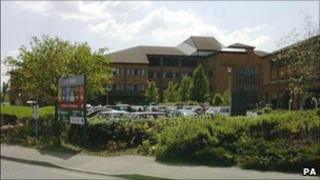 Cuts in overtime and offering extra unpaid leave are some of the measures being taken to avoid jobs losses at Musgrove Park Hospital in Taunton.
In January the hospital's chief executive wrote to staff suggesting job losses or pay cuts would be needed to help save £20m over two years.
Jo Cubbon then asked staff to suggest ways they could cut the wage bill which amounts to 70% of total costs.
Unison said it was supportive but patient care must not be affected.
Three hundred staff took part in the consultation.
The trust says - at the suggestion of some staff - workers can now take up to five days' unpaid leave in addition to their usual holiday.
Overtime will also be reduced, and the trust is following up on other staff suggestions to reduce waste.
A statement from Taunton and Somerset NHS Foundation Trust said 10 management staff had already left the organisation, and that there were no plans for any further compulsory redundancies to save money.