Wells Cathedral hosts free talks in May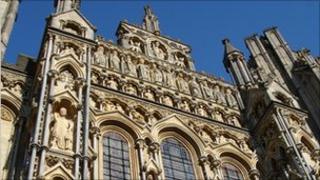 A series of talks have been planned at Wells Cathedral to discuss "values in public life".
Speakers from the police, NHS, county council, and Liberal Democrat MP for Wells, Tessa Munt, will take part.
All the events are free to attend and will take place from 1pm to 2pm in the nave from Friday, 13 May.
Each speaker will address a different aspect such as the spending cuts, social justice and their views of upholding "values in public life".
The schedule for Cathedral conversations runs as follows:
Friday, 13 May: Liberal Democrat MP for Wells, Tessa Munt
Wednesday, 18 May: Chief Constable for Avon and Somerset Police, Colin Port
Wednesday, 25 May: Chair of NHS Somerset, Jane Barrie OBE
Wednesday, 1 June: Leader of Somerset County Council, Ken Maddock (Conservative)