Olympic gold medallist Amy Williams opens school gym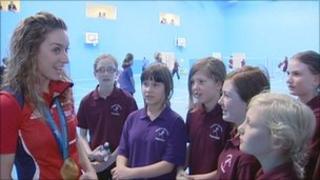 Winter Olympics gold medallist Amy Williams has returned to her old school to open a new sports and arts facility which has been named after her.
The £10m development at Hayesfield Girls School, in Bath, includes a hall, gym and 250-seat theatre.
Williams, who came first in the skeleton event in Vancouver last year, said the facilities were "amazing".
Headteacher Erica Draisey said: "We hope our next Olympian will be coming from this centre."
The Amy Williams Sports Centre, which took two years to build, will also be used by the community, by sports, theatre and music groups.
Williams said: "The facilities here are absolutely amazing, completely different to this little hut that we used to train in that probably had mice in the corner.
"To walk in today, I just didn't recognise it. These girls are very, very lucky."
Mrs Draisey said: "I think it will get them to explore new activities that they possibly wouldn't have done before.
"We've got trampolining, we've got basketball, we're doing fencing.
"We're the fencing champions of Banes (Bath and North East Somerset), in fact, but we've never been able to do fencing here at Hayesfield, so the girls are really going to find that they can excel."