Somerset County Council ends Tour of Britain sponsorship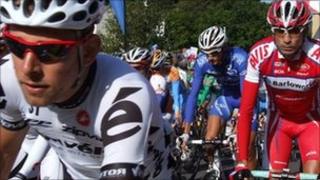 Somerset County Council has ended its sponsorship of Britain's premier cycle race, the Tour of Britain.
The county has hosted two stages of the race each year in a five-year contract worth £775,000.
But, despite attracting up to £10m in revenue, the council said it would not be appropriate to fund the race while it was £350m in debt.
Race organisers said they hoped to find new sponsors so the race could return to Somerset next year.
'Financial obstacles'
Councillor David Hall, cabinet member for strategic planning and economic development, said: "The Tour of Britain itself has been very good for Somerset.
"We estimate that over the five-year period of the contract it's probably brought in about £10m worth of business.
"But equally I recognise that in these more difficult economic times it's not something that we could be seen to be sponsoring directly. That wouldn't be the right thing to do."
The council is in the final year of the contract and Somerset will host stage six of the race, a 145km (90 mile) route between Taunton and Wells that includes the King of the Mountains climb of Cheddar Gorge.
Tour organisers said they will showcase the county in the hope of getting private sponsorship for future years.
Hugh Roberts, chief executive of the Tour of Britain, said: "I would like to think we can bring the race back into Somerset next year.
"There are some inevitable financial obstacles that we need to get over before we can do that."
The Tour of Britain is a national cycle race taking in eight stages across the country and attracting an estimated 1m spectators.