Somerset College loses adult nursing degree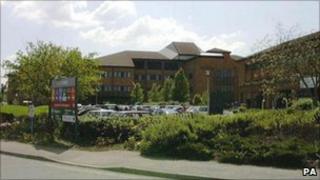 A Somerset college has said the closure of its nursing course by a south-west university is the "wrong decision".
The University of Plymouth is ending its Diploma HE Adult Nursing programme which is run from Somerset College.
The university said it was "no longer financially viable" to run the course at Taunton, Plymouth and Truro.
Student numbers on the three-year course will be phased out from August, with no intake this year, and it will close permanently in July 2013.
'Set back'
Rachel Davies, principal of Somerset College, stressed that the closure did not affect on any other university courses at the college.
"We have just been given an outstanding Grade 1 assessment by Ofsted for our health and social care provision and I feel that the University of Plymouth have made an exceedingly wrong decision," she added.
"We are a thriving college with continuing plans to grow so we see this set back as an opportunity for Somerset College to put into place a course that will help individuals study locally for a career in nursing."
She reassured students that the college was working to set-up a "replacement qualification" and was working with Musgrove Park Hospital on the plans.
A spokesman from the University of Plymouth said it was looking at redeploying staff to avoid future job losses and there would be "no compulsory redundancies this year".
Future redundancies
Professor Richard Stephenson, the dean of the faculty of health, said it was going to concentrate on courses run in Plymouth and at the Knowledge Spa in Truro.
"It will ensure there is no compromise to the supply of nurses available to take up local vacancies, and that our graduates continue to be equipped for the demands of health and social care in the future," he said.
"The university is committed to delivering the national requirement for all degree nursing programmes."
Taunton and Somerset NHS Foundation Trust said it was "disappointed" that the University of Plymouth had decided to implement a phased closure of the programme in Taunton.
Greg Dix, director of nursing at Musgrove Park Hospital, said: "We are very concerned about the implications this may have on the future number of local people applying for a place on the adult nursing programme.
"We have raised these concerns directly with the university."