Cheap Bath and West Show tickets for carers scrapped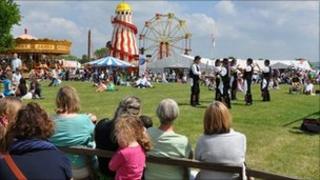 Cheap tickets for carers of disabled people visiting the Royal Bath and West Show have been scrapped.
In previous years, disabled visitors have been able to buy one ticket and receive another discounted for a carer.
The move has been criticised by Somerset charity Compass Disability Services which said it would prevent many disabled people attending.
A show spokesman said: "Regrettably, the carers concessionary rate has had to be withdrawn because of misuse."
The charity's chief executive officer, Richard Pitman, said: "We are disappointed that the Bath and West Show organisers have introduced this policy that may prevent many disabled people from attending the show.
"In my experience, it's normal practice for organisers of an event to provide concessions for disabled people who are unable to access all facilities at the show or unable to attend without the assistance of a carer.
"We hope this means that all areas of the Bath and West Show will be fully accessible to disabled people".
The show's website states: "We provide excellent services to ensure all areas of the showground are accessible. All avenues have hard surfaces and all buildings, toilets and shower facilities can be accessed with ease, making your day out with us an enjoyable experience.
"Lift access is provided to the top floor of the Showering Pavilion and also to the Bath and West Restaurant."
This year's agricultural show will take place from 1 to 4 June.